ABOUT TEDCO Education
Tedco Education is part of the 30 years old Tedco group of companies specialising in professional Culinary and Bakery education in Delhi NCR with 2 State-of-the-art campuses. We are accredited with City and Guilds and our faculty is Internationally trained. Tedco Education is associated with top Hospitality brands such as Marriott, IHG, Le Meridien, Taj where our students undergo training and embark on their careers.
All our courses are in collaboration with International Vocational training partners and offer internationally recognized certificates of competency. We also offer workforce skilling, soft skills courses, and tailored corporate training solutions. Our corporate partnerships enable our students to work as apprentices and trainees in hotels and fine dining restaurants as part of their training and experience real work situations.
We aim not only to train students but to ensure that they are eventually placed in reputable organizations both in India and overseas.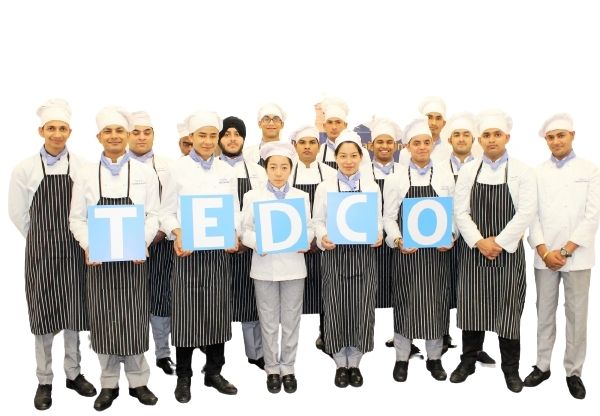 CAMPUSES
2 State-of-the-art campuses located in Connaught Place and Kailash Colony have been designed in consultation with our international partners and to their exacting standards.
The facilities include a fully functional commercial teaching kitchen with all the necessary equipment and a café and bar for teaching hospitality courses designed in accordance with strict guidelines. The institute has two state-of-the-art lecture halls and is completely IT-enabled for a hybrid mode of delivery consisting of face-to-face lectures, online delivery, and video links.
FACULTY
One of the aspects that sets us apart is the quality of our faculty. They have to pass through a rigorous screening process by our international partners prior to their recruitment. They are then required to complete their international qualifications and training before they are allowed to teach our courses.
This is all undertaken online and face-to-face by representatives of our international partners. The faculty is also made to participate in refresher programs in the specific subjects so that they may be abreast with the latest industry developments in their respective fields.
Why Study With Us?
We have been providing quality education in the field of hospitality in association with City & Guilds, UK.
International Exposure
We help our students experience international standard of education and working by offering them international internships and higher education guidance.
Industry-Oriented Curriculum
Our curriculum includes Theory + Practical classes to give our students the wholesome knowledge about the field of hospitality.
Book Your Seats
Contact us at 8882595959 or write to us at info@tedcoeducation.com